The SeqStudio Flex Genetic Analyzer offers dependable performance as well as flexibility in your work.
The Applied Biosystems SeqStudio Flex Series genetic analyzers deliver the high level of Sanger sequencing and fragment analysis data quality and reliable performance that scientists need while leveraging design improvements and technological advances for increased flexibility, easier operation, enhanced connectivity, and remote serviceability.
With a wide range of applications from simple, targeted sequencing to the identification of the latest SARS variant of concern, SeqStudio Flex genetic analyzers help you to achieve freedom and peace of mind, providing extra time in your day to do what you do best: answering the big scientific questions.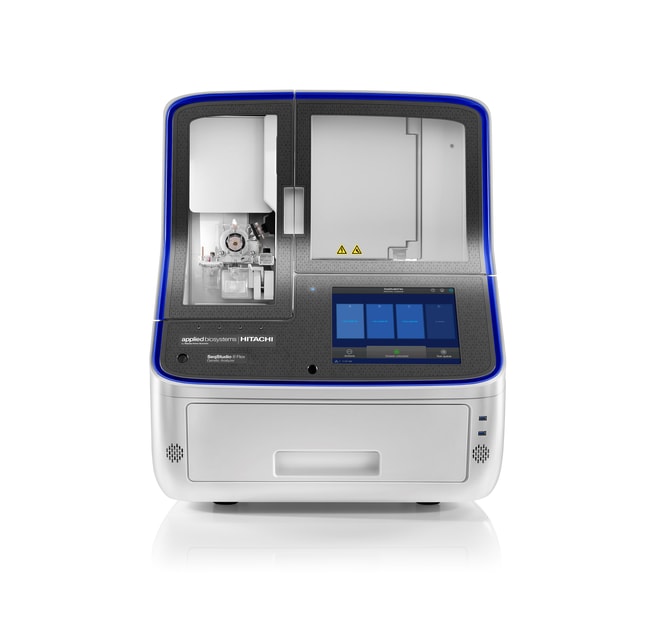 Optimized end-to-end solutions that keep your lab running at maximum efficiency
Thermo Fisher is committed to helping you improve data quality and drive laboratory efficiency for all your Sanger sequencing and fragment analysis efforts by offering everything you need for successful CE separations from sample preparation through data analysis. Only when the highest standards are met do we allow product delivery to your laboratory. We focus on quality so that you can focus on research.
Key features:
8-capillary and 24-capillary systems with 4-plate capacity.
Flexible scheduling with continuous plate loading and sample reprioritization.
Remote troubleshooting for rapid issue resolution.
Interactive touchscreen with an easy-to-use interface.
Autocalibration.
Advanced connectivity for simple data transfer and collaboration.
Web-enabled remote monitoring, run setup, and instrument control.
Traceability and data security with optional security, audit, and e-signature (SAE) software module.
Flexibility:
Do more with complete sample number, application, and run schedule flexibility.
Freedom to access – ability to continuously load plates and reprioritize urgent samples without having to terminate the current run.
Increased walk-away capacity – four plate positions accommodating 8-tube strips, and 96-well and 384-well sample plates.
Any application, any time – perform Sanger sequencing and fragment analysis runs on a single plate using Applied Biosystems™ POP-7™ Polymer.
Work when and where you want – set up your experiment, monitor progress, or analyze data from anywhere using the Thermo Fisher™ Connect Platform.
Ease of use:
Improved efficiency through simple, intuitive operation and maintenance even for new users. Experience the ultimate in usability with integrated Alexa™ voice control.
Expertise not required – simple one-button startup, autocalibration, and onscreen step-by-step routine maintenance instructions. Need more help? Easily access onboard self-help training videos.
Simplified capillary array installation – redesigned, more robust arrays with "click-and-slide" retractor tab and enhanced detection cell housing provide improved capillary protection, ease of handling, insertion, and positioning.
No desktop computer required – integrated touchscreen computer, intuitive software, walk-through wizards, and Applied Biosystems™ Plate Manager 2.0 Software for simplified plate setup and instrument operation.
Request More Info